Garry Hill, President, Garry Hill Automotive Fine Art, Inc.



PO Box 1311
Mooresville, NC, US 28115-1311

Phone: 704-663-3007
Phone: 800-847-0043
Email: garry@garryhill.com


NASCARpartners.com Feature
By Brad Klein

Garry Hill is president of Garry Hill Automotive Fine Art, Inc. The company has been a NASCAR licensee since 2001.

Hill is originally from Danville, Va., and majored in fine art history at Averett University in Danville. "I played on the Averett University Tennis team," he said.

Mr. Hill has been in the racing art business for 28 years. "My wife and I have owned our company for 18 years," he said. "I like to refer to myself as an 'artist,'" Hill said. Hill creates the artwork (paintings, limited edition prints and graphic design), and coordinates marketing with his wife Pam, who is marketing director. "We were the first company to introduce limited edition fine art prints to NASCAR and driver autographed limited edition print editions." Hill says that he specializes in the history of NASCAR- past and present.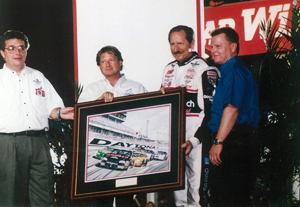 Before Hill owned his current company, he raced cars and sold racing and safety equipment while creating artwork on the side for clients of the racing and high performance business. "This introduced my artwork to R. J Reynolds (Winston) then the Cup Series sponsor and was instrumental in me becoming the official artist of the NASCAR Sprint All-Star Race," he said.

As an artist working only with racing subjects, Hill has produced paintings for the motorsports community at the corporate level as well as for private collectors. Sprint Communications, International Speedway Corporation, General Motors, and other corporate entities use Hill's fine art work. He's produced paintings for race program cover art at Dover International Speedway, Watkins Glen International, Richmond International Raceway, and Martinsville Speedway among many other tracks on the NASCAR racing circuit.

Each year Hill attends about 10-12 races all for business, but he's attended as many as 18-20. He's the official artist for the NASCAR Sprint All-Star Race, and has been so since 1987. "I am currently working on the 2008 painting for the All-Star Race featuring Kasey Kahne, the winner of this year's All-Star race," Hill said.

What benefits is Gary Hill getting from a partnership with NASCAR? "Working with the great people at NASCAR and the contacts that the sanctioning body brings to the table," he said.

Here is more with Garry Hill.

If you won the lottery tonight, what would be the first thing you did?
Travel and explore. I am a big history buff. In fact we have trademarked the tag line "The Art of History" because of our effort to record the history of NASCAR. However, I love all aspects of history. I would like to travel to historic sites within our country and abroad.

What would the title of your biography be?
"RACER!!!!!!!!!!!" I race on and off the track (See attached picture - Formula Ford). I am still driving a race car at the age of 54 (Formula Ford in the Sports Car Club Of America), so I race on and off the track. I create artwork featuring NASCAR racings greatest moments off the track and on my off weekends I race the Formula Ford.

Give me one word that describes your personality.
FREE!!!!!!!!!

What celebrity would play you in a movie?
Robert Redford. I have been told there is some resembleance (I doubt it but others think so) and too Redford was an art major in college and is a car guy. He especially likes Porsches.

If you could have dinner with 2 people who are no longer alive, who would they be?
Steve McQueen - Another artist (Actor) and racer.
Alan Shepard - First American in space.

What is your favorite food?
Answer: Steak

What are your favorite sports teams?
Outside of NASCAR Ferrari in Formula One and McLaren.

If you could be on the cover of any magazine or newspaper, what would it be?
Cowboys and Indians (www.cowboysandindians.com)

What is your most prized possession?
FAMILY!!!!!!!!!!!!!

If you could ride shotgun with any NASCAR Sprint Cup Series driver, who would it be and why?
Jeff Burton. Before art completely paid the bills I worked in PR and sponsorship acquisition. Jeff Burton and Dale Jarrett were two of my first clients. I met Jeff when he was a Junior in High School and helped him make many contacts in NASCAR. It is rewarding to see both Jeff and Dale be so successful.